Introducing the
KETTLEBELL KICKSTART
A movement workshop series for beginners to learn the basics of kettlebells so you can workout with confidence.
Meet the instructor behind Kettelbell Kickstart
Hi! I'm Rachel! 
In 2016 I stumbled upon a kettlebell gym in my San Francisco neighborhood and fell in love with the training style. I got my Russian Kettlebell Certification in 2017 and it changed my life. I became obsessed with practicing my new skills, getting stronger, and feeling athletic again. I had this new feeling of extreme confidence, internally and externally, that has only grown overtime. Because of that, I'm deeply passionate about sharing and teaching kettlebells so other people can experience the same magical outcomes. 
WHAT IS KETTLEBELL KICKSTART?
Kettlebell Kickstart is for the ultimate beginner. Many of my diehard, strong AF clients who LOVE training with kettlebells didn't even own one before we started working together. It all starts with one, and then the feeling of getting stronger and more badass becomes addictive. 
In Kettlebell Kickstart, I'll teach you how to do the most common kettlebell movements that I see done wrong all the time. The shit I see on IG that makes me cringe… yeah, you WON'T be doing that and I'll make sure of it! I'll show you how to pick up and hold a kettlebell the right way because it's unique and different from other training tools. I'll teach you the movement basics you need to know in order to start doing the most awesome kettlebell exercises - swings, snatches and Turkish get-ups. 
You'll learn the foundations in an initial two-hour workshop, then practice what you learned with two follow-up 45-minute workouts. Everything is happening digitally on Zoom, so you can live
anywhere
and get this amazing education.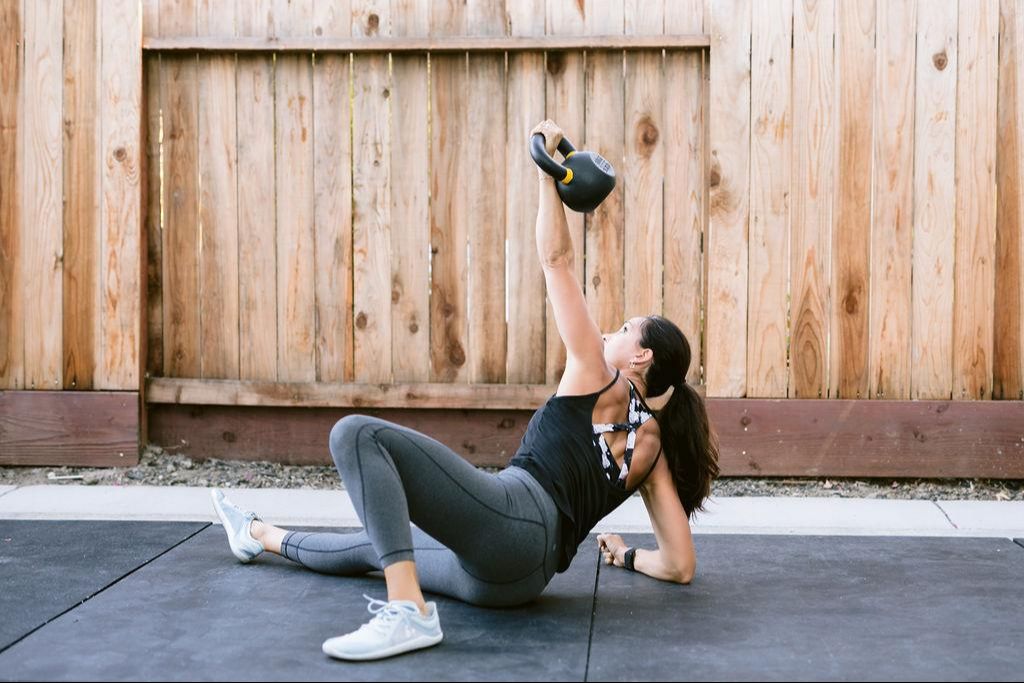 Learn the foundations, then practice to get better 
I'll be coaching you LIVE and providing real time feedback. Plus everything will be recorded so you won't miss a rep, no matter your schedule. You can even replay it over and over again to drill everything into your brain. It'll be both fun and useful to get the basics down, which translates into all of your future training endeavors. 
WHO IS IT FOR?
Beginners to Kettlebells
WHAT IS IT?
Kettlebell Kickstart - A workshop series for beginners to learn the basics of kettlebells so you can workout with confidence.
WHERE IS IT?

On Zoom - anywhere you want to be, whether at the gym or in the comfort of your own home, you can take this course anywhere!

WHEN IS IT?
3 sessions in October
Sunday October 22
1:00-3:00pm
Tuesday, October 24
12:15-1:00pm
Thursday, October 26
12:15-1:00pm
All times Pacific
EQUIPMENT NEEDED
Two kettlebells - A lighter and heavier kettlebell. For most female beginners, I recommend a 15 and 25 pound kettlebell. For most male beginners, I recommend a 20 and 35 pound kettlebell. 

A computer or a phone to watch the class on zoom. 
PREREQUISITE 
The ideal participant is able to get up and down off the floor easily without assistance and doesn't have current injuries or major movement limitations. A bad knee is ok, but a frozen shoulder is not. Email me if you have questions and whether it's a good fit for you.